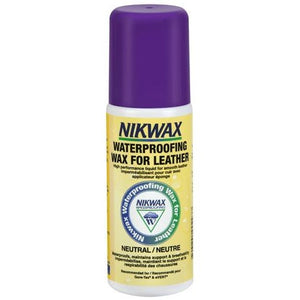 NIkwax Waterproofing Wax for Leather
This is the Nikwax for Smooth finished leather; but if color change on leather is not an issue, it is the most durable waterproofing wax from Nikwax.  We use it on all our leather boots for regular maintenance & in preparation for each hunt.
The comfort of waterproof footwear is dependent on it supporting feet and being breathable. The structure of leather and therefore the level of support it provides is maintained by tanning agents.
When leather absorbs water, it softens and tanning agents are lost. Subsequently, the leather is stiffer when it dries and therefore prone to splitting. Also, when leather gets wet the breathability of footwear is impaired, giving you damp feet.
Therefore, it's essential that the Durable Water Repellency (DWR) of your footwear is maintained. Eventually DWR will wear off and need to be renewed with Nikwax Waterproofing Wax for Leather™.