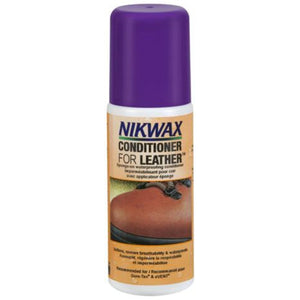 Nikwax Conditioner for Leather
To prevent your leather boots from changing shape, size, cracking, or prematurely failing, conditioning is critical.  When you use Nikwax Conditioner for Leather, you beef up or replace worn DWR coatings, to prevent the absorption of water, and retain the leather's structure and pliability.  
Footwear needs to provide support, but also needs to be soft and flexible to maintain comfort. During the manufacturing process leather undergoes a procedure called tanning. This process adds tanning agents to maintain the structure of the leather, enabling it to keep its shape and provide support. Leather is also lubricated to increase suppleness and reduce friction between its fibers. When leather absorbs water, tanning agents and lubricants are lost, which causes the leather to become dry, stiff and prone to splitting. Nikwax Conditioner for Leather™ will nourish leather with tanning agents and lubricants to keep it in top condition.