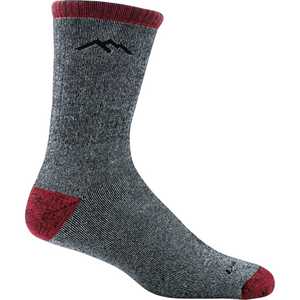 Darn Tough Micro Crew Mountaineering
Regular price $25.00 Sale
To us, this sock is THE sock. In addition to the technical benefits listed below, this is the shortest mountaineering sock on the market - not a traditional over-the-calf height, but rather just enough to get the sock out the top of the boot in a modern two or three eyelet boot shaft. The result is a dramatic reduction in random crap, grass burrs, or cactus needles coming along for the ride when you are hunting.
For long hunts, multi-day wear, and stiff boots this sock has the perfect combination of thickness and durability. We have found Trekking or Mountaineering socks to be almost an essential component for serious hunting, the additional loft in these categories can help make rigid boots far more forgiving, and they retain that cushion day-in and day-out, enough that we typically take only one or two sparepairs of socks for 10-day plus hunts.
This particular sock has proven itself to be the standout of the lot, feeling surprisingly welcoming on its third day of wear. But, they are also incredibly durable, we have finished more stalks in Darn Tough Socks than any other variety, and never wear through them.
After all, a lifetime warranty on a sock says a whole lot, and knowing that you can expect years of everyday wear is a pretty serious bonus.