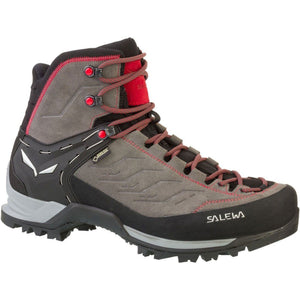 Salewa Mountain Trainer
Regular price $249.00 $249.00 Sale
We have experimented with a lot of lightweight boots over the years, but non have impressed us as much as Salewa's Mountain Trainer Mid. The generous last that this boot, as well as our other Salewa offerings, is made makes consistent fitment between this lightweight hiking and trekking boot up to their most stout mountaineering boot.
It's Vibram WTC outsole is long lasting and sure footed. The nylon shank in this boots provides sufficient underfoot protection without making to boot too rigid. It is a perfect summer scouting, light backpacking, and early season hunting boot - we've even put some rough desert sheep miles in these boots without a single blister. The revised leather upper has just enough padding to encourage a perfect fit and when paired with its full rubber rand, helps to keep cactus at bay.
Weather you are on the job site, at the range, or finishing a stalk, the Mountain Trainer Mid is a secret which has been kept from hunters too long. I have been in these boots since they first came to the US and they have only gotten better with each revision.